Living & Working at MPA
Living & Working in Germany

First steps around Garching
On the official English websites of the City Munich you can find information about traffic and transport, education, culture and offices and everything the city has to offer.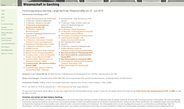 The official website of the science campus in Garching. You can find information and links about MPA's neighbor institutes. (only available in German)
First steps at MPA
The following links/information may also be helpful to find your way at your new workplace.
Language Courses: 
As a scientist from abroad you can attend German classes MPA on a beginner or advanced level. They last from end of September until mid June. The Sprachenschule Doppelpunkt is located on campus at the MPI for Plasma Physics and offers German courses for all foreign employees of the research institutes in Garching. Additionally MPA can support language classes from other institutes in Munich.
Family Service of the Max Planck Society (in German)
Child care at the institute: Our "Wichtel Akademie", Kindergarten and nursery, is located on campus close to the IPP gates.
Max Planck PhDNet: The network of Max Planck PhDstudents, a platform for exchange among doctoral students at Max Planck Institutes.